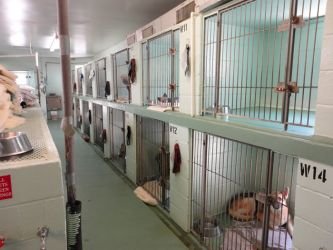 Plenty of Natural Light
Our Main building is a symmetrical design and is illuminated by skylights and windows.  We have 60 picture windows with a view overlooking the yards to entertain your pets.
Modern and Well-Attended
Our interior accommodations all face inward towards the center work areas. This is where the staff prepare meals for our guests. We also have a bathing and grooming area for our guests who want to tidy up after a vigorous playtime. The entire area inside is bright and open so that our guests will never feel isolated from the staff.
Lots of Interaction and Play
Animal and staff interaction is a constant part of your pet's time at Preston Country Club for Pets.  Selections from our specialty care plans are available a la carte. Rate_Sheet ►